Word Star in the App Store
Word Star brings the popular word game Boggle to your iPhone and iPod touch! AppStore link

Daniel Schroth, 02.28.2010


It's christmas time!
Let it snow on your iPhone - with 3D Winter Snowglobe! AppStore link

Daniel Schroth, 12.07.2009


Multi-Shot gets good reviews
Macwelt, a German Mac & iPhone magazine, says: 1.9 good , on a scale from 1 (best) to 6 (worst). Review link

Daniel Schroth, 11.08.2009


Multi-Shot is in the AppStore
The camera of the iPhone just became even better: Introducing a continuous shooting mode. AppStore link

Daniel Schroth, 11.08.2009


SPLINTERS submitted to the appstore
The 3D puzzle game SPLINTERS makes it's way to the iPhone and iPod touch. To be released mext friday!

Daniel Schroth, 10.11.2009


review on iphoneapplications4life.com
The guys at iphoneapplications4life.com posted a review of plong on their website. Check it out!

Daniel Schroth, 08.23.2009


plong hits Top Paid Apps in its category!
plong is currently #14 in Games/Trivia (Germany)! Thank you for your support. The next update is going to be a big one, I promise. If there is a feature you'd like to see, drop me an e-mail!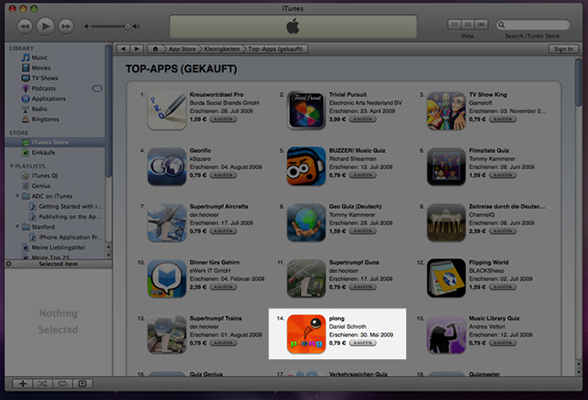 Daniel Schroth, 08.07.2009


plong 1.1 in the stores
The classic revival just became a bit better, now also in your language!

Daniel Schroth, 08.05.2009


iWay submitted to the appstore
The route tracking application iWay is coming to the iPhone 3G and 3GS. The scheduled release date is July 17, 2009.

Daniel Schroth, 07.12.2009